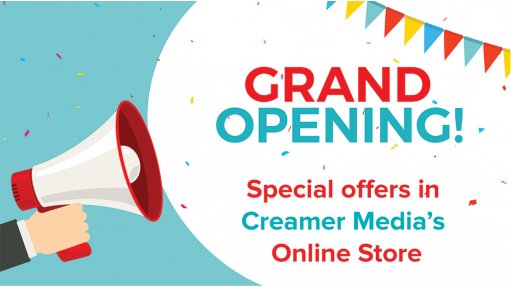 In order to sharpen its product offerings, Creamer Media has launched a new upgraded version of its Online Store.
"To celebrate this launch, we have made available some unbelievable discounts for our Subscriptions and a selection of our Research Reports," stated Reinette Classen, Creamer Media's Chief Operating Officer for Sales and Marketing.
For a limited time Creamer Media's print and online subscriptions will be available at a 50% discount for new subscribers. Highly informative Research Reports on COP26 and South Africa's Just Transition; on Telecommunications in South Africa; and on African Mining Projects in Progress will for a few weeks be on sale at a heavily discounted rate of R299 each (ex VAT).
To take advantage of the launch offers, visit the dedicated Launch Offers page at this link: https://store.creamermedia.co.za/collections/special-offers
For more information or assistance, email subscriptions@creamermedia.co.za