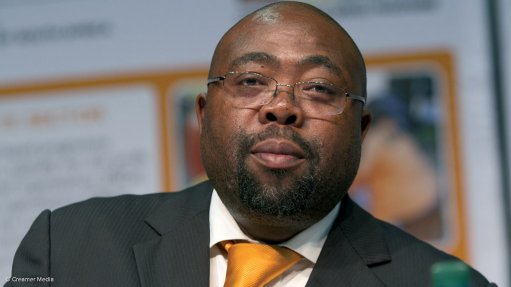 Minister of Employment and Labour Thulas Nxesi
Photo by: Creamer Media
Minister of Employment and Labour Thulas Nxesi said government and the social partners, including communities, must join hands and become more innovative in confronting the complex challenges the country is facing in taking South Africa to a higher growth path.
Nxesi was speaking during the Presidential Social Sector Summit, in Boksburg, on Thursday, which he said came at an opportune time for the National Economic Development and Labour Council's (Nedlac's) community constituency.
He said a new social compact for economic growth should outline the principles of a "new consensus", beyond merely specific actions or interventions and it must enable action on interventions whose scale was large enough to place the country on a clear path of recovery.
"We must also endeavour not to leave anyone behind. We, therefore, need to broaden our consultation and participation wider and beyond government and the Nedlac social partners," he said.
Nxesi said the social compact should also resolve the current impasse on long-standing areas of disagreement or stalemate, and should not only include issues where broad agreement already exists.
"The agreement should build on the Economic Reconstruction and Recovery Plan which was launched by the President, but extend beyond. It must be seen as the first approach that will shift the needle on [the right] economic path. The focus should be on fewer priorities, big-ticket items where consensus is required, not a laundry list of initiatives or a comprehensive plan," he said.
He noted that the social compact must include commitments from each social partner and not only actions that government would take.
"Other people think that it must be government acting on that and that and theirs is to be beneficiaries. No, all stakeholders must come to the party and contribute," he said.
Nxesi proposed that some departments that provided key services operate seven days a week, to improve services and create more employment.
He added that management in the State must also be dealt with.
"We are talking about the capacity of the State, have we employed the right people? Do they have the right qualifications and do they have the right culture of work? When employed, do they stay at work and are they up to task? We must be honest, we have to deal with this culture," he said.
POVERTY, UNEMPLOYMENT AND INEQUALITY
Social Development Minister Lindiwe Zulu also pointed out that the focus must be on the real challenges that were faced by people. Those included poverty, unemployment, inequality and the value chain of the country's economy - an economy, she said, that was not opening up particularly to young and black people.
Zulu said her department was also looking at social entrepreneurship.
She said her department was responsible for the well-being of citizens across the board and for ensuring the potential of each and every citizen.
"In its multiple manifestations, this sector has been the primary source of cohesion, sense-making and cooperation in communities," she said.