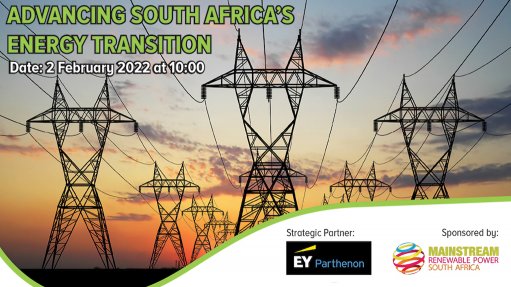 Creamer Media, in partnership with EY Parthenon, will be hosting a webinar on Advancing South Africa's energy transition on Wednesday, 2 February 2022 at 10:00.
This webinar will centre on plans underway to enable South Africa to transition to a low-carbon economy. Some of the focal points of the webinar will include:
Eskom's plans to extend and strengthen the national grid as part of a broader shift towards more decentralised electricity generation;
an exploration of some of the repowering and repurposing prospects for the decommissioned coal stations and mines;
the role that Eskom's Just Energy Transition strategy can play in supporting vulnerable workers, communities and businesses;
the role that the Presidential Climate Commission can and should play in defining the just transition and monitoring its implementation; and
the risks and opportunities for South Africa as more and more countries make net-zero commitments.
Confirmed speakers include:
Paul O'Flaherty, Executive Director and Africa Lead – EY-Parthenon
Andre de Ruyter, CEO – Eskom
Tsakani Mthombeni, Executive of Sustainable Developments – Implats
Hein Reyneke, General Manager for Africa – Mainstream Renewable Power
CLICK HERE to register to attend this webinar sponsored by Mainstream Renewable Power.