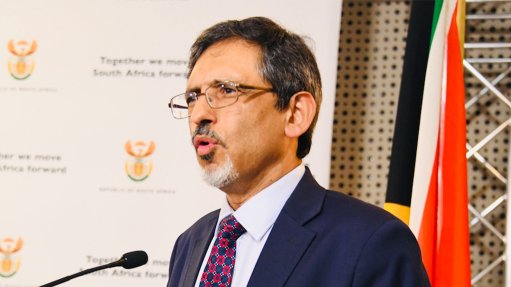 Minister of Trade and Industry Ebrahim Patel
On behalf of the South African government, I wish to warmly welcome you on this beautiful day at this Inaugural Black Industrialists Conference, in this hall brimming with energy. Of the more than 1 000 delegates here, a special welcome to the CEOs of 650 black-owned firms present, drawn from all parts of the economy.
There are businesses here:
Who feed the nation through production of food and beverages, and the growing of fruits, vegetables and the farming of animals who provide the meat we eat;
Firms who help to generate green energy and are developing new-generation battery solutions,
Companies who produce steel and engineered products, and chemicals
businesses who make the clothes we wear, the shoes on our feet, the sheets on our beds; the cosmetics we apply and the furniture we use in our homes and offices
firms who innovate with new technologies, digital products and space-technologies
companies who dig the coal, the vanadium and other minerals beneath our soil as well as those who render the support services that make it possible to get these to markets
factory owners whose components go into the C-class Mercedes, the Toyotas and VW vehicles produced in South Africa;
emerging black construction firms who have benefitted from the competition settlement with large firms in the industry
tourism establishments and businesses
healthcare firms, some who helped us to fight against covid-19, including those who made components that went into the production of the South African made ventilators used in our hospitals; and
black film-makers who produce films that tell the South African story
We welcome small businesses who provide important services to the community; and medium-sized businesses who employ people in productive labour as well as the trade union leaders who represent the workers.
We welcome a number of representatives of workers trusts who hold shares in the firms they are working in, with hundreds of thousands of workers now owning such shares.
We have small panel-beater shops who are now on the panels of large insurers after the competition commission investigation into restrictive practices and ways to broaden access for small businesses.
We have industrialists who have invested their money to build new factories, to expand mines, to develop more agricultural lands, to obtain machinery and to employ young South Africans.
We have a large contingent of exporting firms present – last year, off the back of the commodity boom, SA achieved a record performance, exporting R1,8 trillion, representing almost one third of our GDP. Some of the exports came from black-owned firms present here today. We are now working with a black exporters network to be launched today to increase the volume of exports and create local jobs.
These are businesses who in many cases have showed resilience; and they are the productive engines that create jobs. I also want to welcome Members of Cabinet who are present from a number of different portfolios, Our host Premier, David Makhura Members of Parliament, economic regulators from competition, consumer and lottery agencies and government officials from different departments.
We welcome 18 funding entities who are in the business of financing small and medium sized businesses, including commercial banks, DFIs like the IDC and NEF, and other funders.
We have the representatives of a number of retailers present, with their procurement officers and buyers and we hope they will find suppliers here that they can bring into their supply-chains.
We welcome the 142 exhibitors who are showcasing their products in the market-place that has been set up as part of the Conference and you will find their products when you go for coffee later and because pictures tell stories so vividly, we will flight videos of progress made by black industrialists; and you will have received a book, telling the story of about 150 black industrialists. This is the first Black Industrialist Conference.
There are five components to the Conference:
1st, there are the discussions to be held today in plenary and through high level panels, with 40 speakers and
2nd, the launch of key growth initiatives like the Black Exporters Network and an opportunity to showcase black women and young industrialists, component makers, film-makers, worker ownership trust representatives and to formally introduce the Broad-based Black Business Council to black industrialists
3rd, a market-place for products produced by black industrialists, with 140 black-owned firms featured
4th, a series of eight Excellence Awards to be given to firms and individuals selected through a nomination process; and
5th, a media focus, with a live studio by SABC, space for interviews, the release of a book on black industrialists profiling their businesses and videos on individual industrialists.
This Conference will highlight South African stories, of firms that have been built from the bottom up; of black South Africans who have used the opportunities in a democracy to build businesses that employ.
Today is also about the future and what we will do. In February this year in his State of the Nation Address in the South African Parliament, President Ramaphosa, outlined progress we had made with the Economic Reconstruction and Recovery Plan.
The President called for investors, workers and citizens to work together to develop a social compact for greater growth, investment and jobs.
The President has placed transformation at the centre of his focus and agenda; and through the reimagined industrial strategy he outlined in his inaugural SONA, he has put the focus on changing the structure of the economy. It should be about industrialisation and greater levels of localisation of production.
I want to welcome now the President of the Republic, His Excellency Matamela Cyril Ramaphosa, and call on the President to officially open the Conference and give the keynote Address.
Mr. President, the floor is yours. Please welcome the President.